Liferay DXP key features
Horizontal Portal
A flexible, reliable portal platform that grows with your business needs.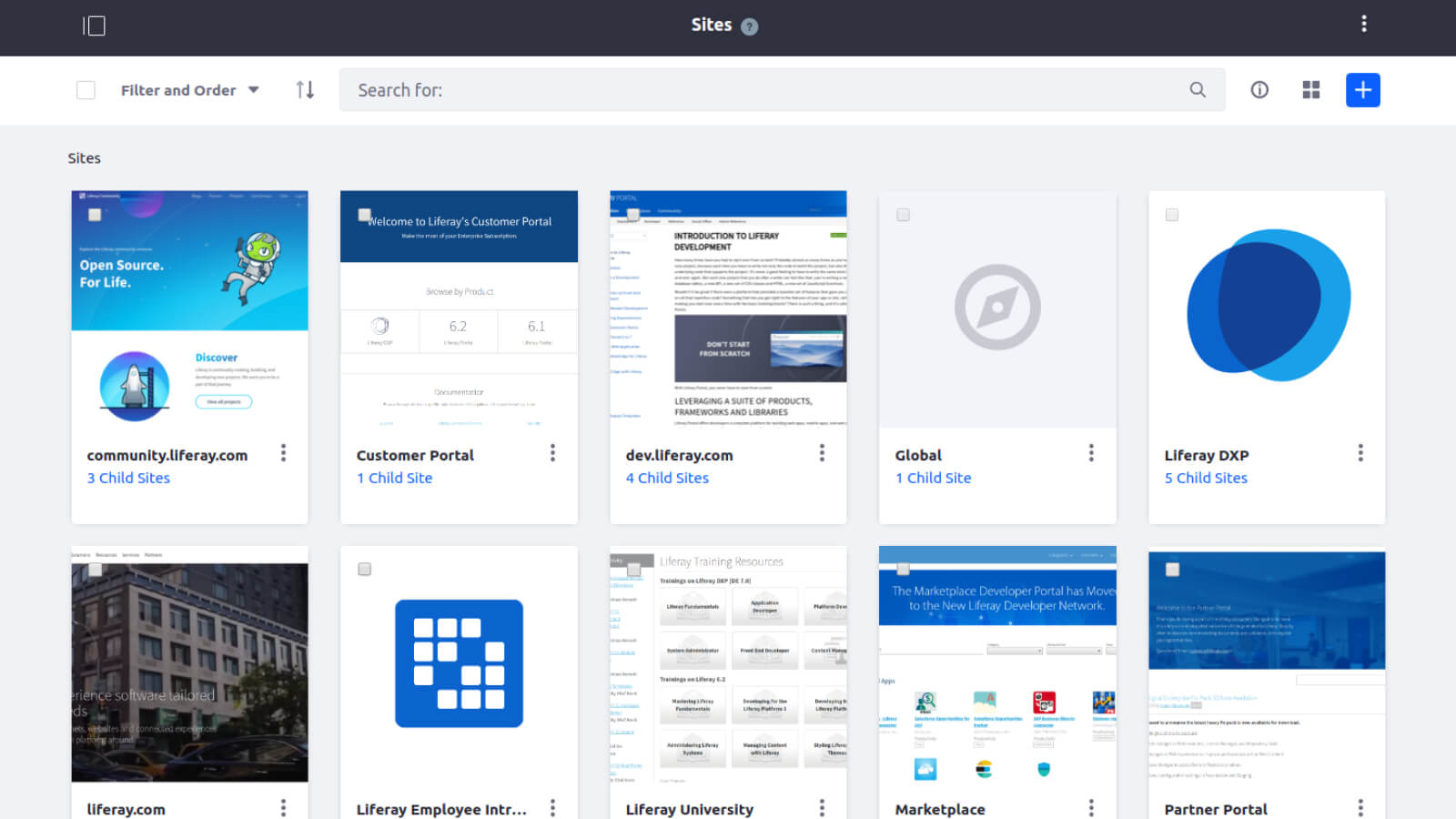 Clustering and Performance Monitoring
Liferay DXP supports clustering at any combination of tiers (presentation, service, business logic and database), advanced caching and performance monitoring support (JMX, Java profiling and more).
Auditing and Optimization
Access key performance statistics (hits/page, avg time/hit, max time per request and more) for all applications and pages. Track and manage user activity on the platform with built-in auditing.
High Availability and Scalability
Liferay DXP offers high availability and scalability as an infrastructure portal and collaboration site on a single application server, even in the most demanding environments with millions of active users.
Developer Languages and UI Frameworks
The following languages and frameworks are supported: Java, JSF, Lexicon, Groovy, GWT, JQuery, Twitter Bootstrap, Metal.js, ReactJS, AngularJS, Senna.js, Lodash, Vaadin, Ruby, Scala, Freemarker and others.
Simplified UI Development
Simplify the development of user interfaces that integrate all enterprise systems into one interface for end users, notably for logged in experiences or sites that require a workflow approval process.
Single Page Applications
Liferay DXP uses Senna.js, a Single Page Application engine, to achieve faster loading and greater performance. SPAs provide dynamic web experiences by loading only the necessary parts of a page with a refresh.
Search
Liferay DXP provides out-of-the-box integration with Elasticsearch 6. For those who prefer it, Solr can be configured for use with Liferay DXP through an app found in Liferay Marketplace.
Security
Liferay DXP follows the OWASP Top 10 and the CWE/SANS Top 25 guidelines. It supports government-grade encryption, pluggable authentication, LDAP authentication, email verification, session management and OAuth 2.
Data Protection
Companies can erase a user's personal data and export a user's personal data in a machine-readable format upon request. Liferay DXP includes APIs for third-party apps to implement this feature.
Identity Management Support
Liferay DXP is compatible with LDAP, SAML, OAuth, OpenSSO/OpenAM, SiteMinder, Tivoli Access Manager, Facebook Login, CAS, NTLM, Google, Web Services, SOAP, JSON and REST.
User Management
Create and manage users, organizations, user groups, roles and password policies. View all of the live sessions of your users.
Workflow Framework
Incorporate workflow in custom applications with provided APIs. This saves development effort by reusing Liferay's workflow administration tools and provides seamless integration with supported workflow engines.
Integration Framework
Liferay DXP is a central presentation layer platform for integrating content and services from back-end or legacy applications. It supports integration with SOAP, REST, RSS and proprietary APIs.
Other Back-End APIs
Back-end APIs allow connections to assets, cache, comments, data handlers, file storage, geolocation, membership policies, message bus, permissions, recycle bin, scheduler, scripting, search, upgrade and workflow.
Other Standards and Technologies
AJAX, iCalendar, Microformat, JSR-168 (Portlet), JSR-286 (Portlet 2.0), JSR-127 (JSF), JSR-314 (JSF 2.0,2.1), JSR-344 (JSF 2.2), Spring 3.0, CMIS 1.0/1.1, Hibernate collection of projects, OSGi Core 6.0 and SAML 2.0.
Modularity
Liferay DXP provides a highly modular architecture based on the standards of the OSGi family that allows for greater extensibility, stability and flexibility.
Custom Fields
Customize and edit user attributes without modifying the database for pages, web content, blog entries, documents, images and more. Developers can also use this functionality in their custom applications.
Site Administration
Create and manage sites for different audiences. Each site gets its own pages, content management system and permissions. Admins to change the theme, insert JavaScript and metadata, create menus and more.
Quick Configuration
Typically time-consuming tasks such as altering a page layout, adding new applications and content, and changing look and feel can all be managed in a few clicks within a responsive interface.
Page Customization
Customize pages by adding applications through a drag-and-drop interface, with control over application attributes. These pages can be made public (published as a website with a friendly URL) or kept private.
Dynamic Virtual Hosting
A single instance can be duplicated to quickly create hosted websites within one Liferay deployment. Each clone can have a unique URL, custom theme and design.
Cloud Support
On-premise and hosted cloud configurations are supported with multiple hosting and managed hosting providers available today including AWS EC2, Azure and more.
Multi-Tenancy
Organize users by business-defined categories such as department, geography or office. Each organization and site can inherit or define its own permissions and administer user, group and role management.