Liferay Connected Services
What is Liferay Connected Services?
Liferay Connected Services is a new online platform that offers a set of tools and services that will help our customers succeed on their Liferay projects.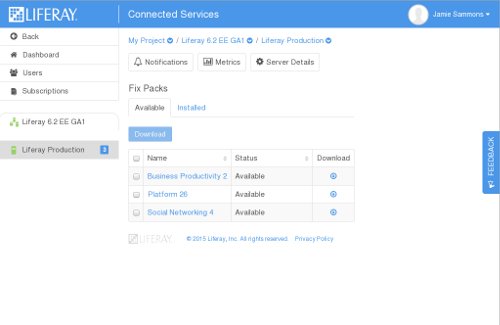 Gerenciamento de pacotes de correção
Gerenciar um software enterprise pode ser uma tarefa desafiadora. É fundamental que os projetos de nossos clientes recebam atualizações de segurança e correções de bug. Nós sabemos o quão difícil é lidar com atualizações em vários servidores e ambientes. Portanto, criamos uma ferramenta que permite a instalação e administração fácil de pacotes de correção em servidores e clusters diversos.
Métricas
Compreender a performance do portal e detectar quedas de desempenho pode não ser fácil. Para isso, oferecemos métricas e dados de uma maneira simples e direta: quantidade de visitas por página, tempo de carregamento do portlet, números de memória... Comece a metrificar o seu portal!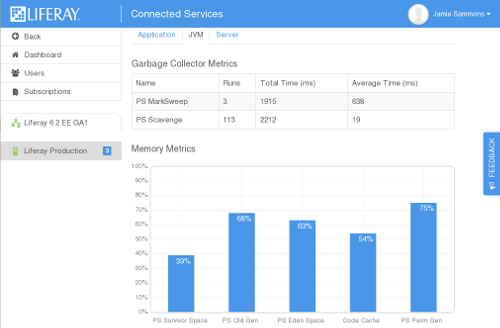 Alertas e Painel Online
Com o nosso painel online, você pode visualizar várias informações de ambientes diferentes, em um único ponto de acesso. Você pode, ainda, entrar na seção de Alertas, a qual notificará você quando novos pacotes de correção passarem a ser disponibilizados, quando houver queda de servidores, ou problemas de configuração.
Levando em consideração as demandas de perfomance e o número de mudanças em nosso sistema semanalmente, LCS está nos ajudando muito a monitorar tudo.
Bob Ward, IT Engineer
Através do LCS, agora eu posso facilmente gerenciar e monitorar nossos projetos Liferay, coletar e analisar métricas específicas do Liferay para garantir a confiabilidade, e serviços regulares ao longo do tempo.
Denis Signoretto, Senior Project Manager

Com o LCS, agora nós podemos monitorar o estado das JVMs dos nossos servidores e obter métricas confiáveis com um simples clique.
Hector Picazo Calvo, Web Services Manager
O que é o Liferay Connected Services?
O Liferay Connected Services é uma nova plataforma online que oferece uma série de ferramentas e serviços que auxiliam nossos clientes em seus projetos Liferay.
Ele é direcionado para CE ou somente clientes EE?
Não, existem serviços e ferramentas para usuários CE e EE.
O Liferay Connected Services é compatível com quais versões do Liferay Portal?
Nós suportamos as versões 6.1 GA 3 (CE e EE) e 6.2 GA 1 (CE e EE).
Onde acho a documentação do Connected Services?
Enviaremos todas as informações necessárias assim que você se cadastrar no Programa Beta.
O que é definido como um servidor?
Um servidor se refere a uma instância concreta de Portal. Pode ser um servidor independente ou parte de um grupo de servidores.
Quantos servidores consigo conectar a uma única conta?
Quantos você desejar!
O que é um ambiente?
Um ambiente representa um grupo físico e real de servidores ou um agrupamento virtual de servidores.
Quantos ambientes posso criar com uma única conta?
Quantos você desejar!
Onde meus dados estão sendo armazenados?
Atualmente estamos utilizando a Amazon como nosso provedor de dados, e os servidores onde armazenamos os dados de nossos usuários estão localizados em Virginia, EUA.
Quanto custa a subscrição do Liferay Connected Services?
O conjunto inicial de funcionalidades da plataforma virá sem custo para usuários CE e EE. Sim, é gratuito!
A comunicação entre os nossos servidores e os seus é segura?
Sim! Todas as comunicações entre os seus servidores e o Liferay Connected Services ocorrerá através do HTTPS (SSL) e será 100% criptografada.
Que informação sobre nossos servidores é guardada nos servidores do Liferay Connected Services?
Para oferecer o melhor serviço possível, nós armazenamos as seguintes informações: pacotes de correção instalados em cada servidor, portal.properties (exceto dados sensíveis), métricas da Java Virtual Machine (JVM), portal, portlets, cache e servidores.