Organization
K&H is a proud member of KBC Group located in Belgium. They have around 4 000 employees and they are one of the largest banks in Hungary. It is in the top 3 banks as it has 210 branches and made a profit of around 90 million Euros in 2015. As a business objective digitalisation is a key goal for K&H, they put a lot of effort into being pioneers in this field. In response to clients' financial needs, the Bank offers banking and insurance solutions at the same time, allowing its clients to make smart decisions and select the solutions that suit them best. The product range of K&H Group extends beyond conventional retail and corporate banking products, moreover includes premium banking services, investment fund management, leasing, life insurance, property and liability insurance as well as securities trading.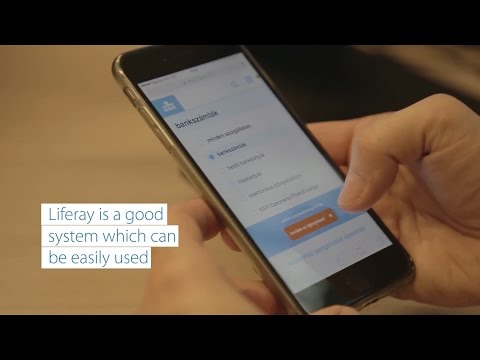 Challenge
K&H Bank's goal was clear right from beginning of the project: they aimed to build a portal that will give their customers the functions they require during everyday banking.They wanted to find the perfect combination of a portal manufacturer and a development company who will help them transform their business expectations seamlessly into working solutions. K&H has carefully examined all the possible portal solutions going through their predefined requirements. Gartner's Magic Quadrant report and their solid review on Liferay naming it Leader on the portal market for the 7th time in a row and the references of Webtown have persuaded K&H to vote for us. Gartner is positioning Liferay in a field of 16 vendors based on their completeness of vision and ability to execute.
Solution
The new portal provides tailored user experience on every screen, whether it is a desktop, tablet or a smartphone. After a productive brainstorming session with K&H, we were able to start designing and building through a well detailed wireframe that put conversion goals in the centre of user journey. This is the reason that the bank wanted us to create an application that makes account opening easy on their website. Many other solutions are at hand helping customers to make the right decision: they only need to choose their goals then the website offers the right products and services. They can find the nearest branch on an interactive map with the help of a route planner. To meet legal requirements we have developed a document lister that filters current terms and conditions that will come into effect soon.
K&H Bank had several internal projects during the development and after the official launch as well. The Bank even involved students to support their language implementation projects and content management tasks. Liferay proved an easy-to-use platform for external hands for the first touch helped K&H to introduce their new site in time.
K&H Bank has found that the biggest advantage of Liferay is that they can accomplish their business aims and tactics without limitations and restrictions.
Having Trouble?
Oh no! Sorry about that. If you're running into issues, we suggest you try:
Disabling your pop-up blocker
Clearing your browser's cache
Disabling any plugins on your browser
Using an alternate browser
Updating your browser to the latest version
If you're still having trouble downloading, please reach out to us on our
Contact Us
page. Thank you!