CASE STUDY | 12 MINUTE READ
Financial Services Provider Automates Costly Manual Processes
CGS-CIMB used Liferay to create an automated enterprise workflow engine for their retail processes.
2,600
institutional clients
Leverage automation to save time and money.
By automating manual processes, CGS-CIMB freed up valuable resources and increased efficiency.
Find integration-friendly technology.
CGS-CIMB was able to integrate all their other technology with Liferay easily.
Build scalable solutions.
Now that CGS-CIMB employees can access customer data, they're able to adapt and grow with business needs.
CGS-CIMB Securities (Singapore) Pte. Ltd. is a leading integrated financial services provider in Asia. Through a network of local offices, branches, and strategic partners, CGS-CIMB has a global presence in more than 20 countries, positioning them as Asia's leading financial gateway with a suite of investment and financial solutions for over 400,000 retail clients and 2,600 institutional clients.

CGS-CIMB had no efficient, scalable way of managing requests that came through their customer-facing retail portal. Without a long-term solution, CGS-CIMB was encountering these problems:
Slow manual business processes. Retail processes had to be executed manually, introducing costly delays before completion.
Lack of integration. Legacy and third-party integrations were disconnected, resulting in a complicated content delivery process.
No real-time customer data. Because many different systems stored different kinds of data, no single system contained up-to-date customer information.
With the help of Liferay DXP, we were able to transform our manual processes [into] digital processes.
CGS-CIMB chose Liferay DXP as their solution because of Liferay's full-fledged content management suite and integration capabilities, building an enterprise workflow engine that would automate critical sales processes behind the scenes of the customer retail portal.

Educational resources on Liferay University helped CGS-CIMB's team ramp up on necessary Liferay knowledge quickly, and the Liferay Global Services team assisted with development to shorten the launch time.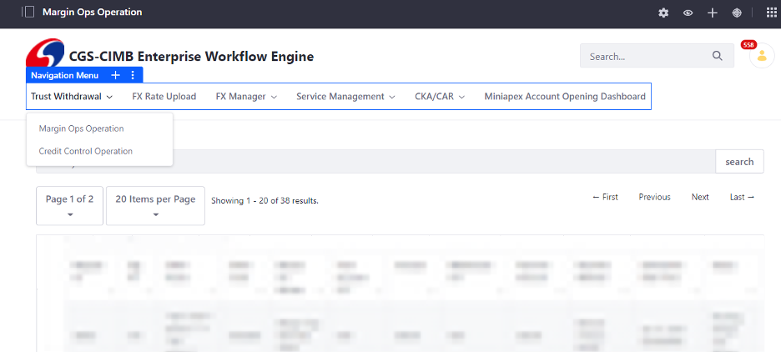 The new workflow solution uses CGS-CIMB's branding for a smooth and seamless user experience as internal staff review and approve requests from the retail portal. Implementing the automated enterprise workflow engine has reaped the following benefits:
Fewer wasted resources. The solution expands CGS-CIMB's digital footprint in shifting retail processes online, saving time and effort.

Flexible updates. Not only are the retail processes automated, Liferay makes updates easy, allowing CGS-CIMB to modify those processes whenever necessary.
Scaling for the future. With access to real-time customer information coming from automation, CGS-CIMB can scale up for the future as their customer base grows.