CASE STUDY | 12 MINUTE READ
Zuellig Pharma Makes Healthcare Accessible to Millions
International healthcare company Zuellig Pharma leveraged just one platform for multiple digital solutions hosted on Liferay Experience Cloud Self-Managed.
Reduce time to market.
With Liferay handling platform management in the cloud, Zuellig Pharma prioritized the business side and launched more quickly than ever before.
Save room in your technology budget.
The ability to utilize one platform for multiple solutions has cut Zuellig Pharma's overall tech investment.
Manage your solutions efficiently.
With a single platform for the intranet, public website, and customer portal, Zuellig Pharma can handle updates and changes easily.
Established in the Philippines more than 100 years ago, Zuellig Pharma provides world-class distribution, digital, and commercial services to support regional healthcare needs and make healthcare more accessible.
In order to serve their customers and employees more effectively, Zuellig Pharma needed to rethink their digital strategy.

Zuellig Pharma was facing these hurdles:
Lack of a modern digital experience platform in place. Zuellig Pharma's digital experiences for prospects, customers, and employees needed an overhaul.
Loss of employee productivity. Without an intranet for crucial resources, employees were hampered in collaboration and the performance of their day-to-day job functions.
Too many platforms to manage easily. Zuellig Pharma had different platforms for all their different solutions, which made platform management complicated and tedious.
Liferay has helped us centralize major websites and microsites in a single platform, allowing us to manage these sites efficiently and cost-effectively.
To address these problems, Zuellig Pharma turned to Liferay and their secure PaaS Liferay Experience Cloud Self-Managed (LXC SM). Because of Liferay's flexibility and powerful out-of-the-box features, Zuellig Pharma consolidated their platforms into one platform, creating a new public-facing website, an employee intranet, and a client portal.

Since Liferay handles the cloud infrastructure, Zuellig Pharma could focus on the business side, ultimately reducing their launch time and simplifying the deployment process.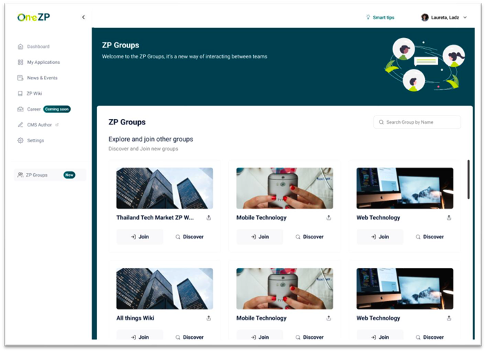 Here's how each individual solution helps Zuellig Pharma:
The employee intranet gathers employee resources and information into a single location and fosters collaboration.
The public website provides details on services, news, and general health insights.
The client portal enables customers to access their accounts securely and self-service to find relevant information.
Centralizing their solutions onto one platform on LXC SM has given Zuellig Pharma the following benefits:
Faster time to market. LXC SM allowed Zuellig Pharma to launch quickly and to continue making updates easily as necessary.

Cost-savings from efficient site management. Now that Zuellig Pharma no longer has to juggle the financial burden of multiple platforms, managing their solutions has become much simpler.
Easier management and personalization of content. Using analytics data, Zuellig Pharma has been able to improve employee engagement and identify areas of growth.
For the future, Zuellig Pharma has even more solutions planned to aid them in their goal of making healthcare accessible.