CASE STUDY | 12 MINUTE READ
Online Payments Increase by 50% for Utility Company
BSES used Liferay as their public website, self-service portal, and mobile application for enterprise-ready, time-saving solutions.
50%
Increase in Online Payments
20%
Reduction in Resources
Choose a platform with the capabilities to support multiple solutions.
BSES was able to build their website, self-service portal, and mobile application all on Liferay.
Reach your users wherever they are.
Not only did BSES make their website responsive, they also created a mobile application for convenient access.
Save resources and time by developing only when necessary.
Because BSES was able to leverage many Liferay features out-of-the-box for their solutions, they were able to focus their development efforts.
BSES Delhi, a joint venture between Reliance Infrastructure Limited and the Government of NCT of Delhi, is a utility company that distributes power to millions of people, delivering reliable and quality products and services to their customers.
Liferay Solutions
Ready to see what Liferay can do?
BSES was unhappy with their current solution, which didn't adequately meet their requirements on the right timeline. They needed a more user-friendly website, a robust self-service portal, and a mobile application to give their users access anywhere.

BSES was struggling with the following issues on their existing platform:
Content was difficult to maintain sustainably.
BSES' processes for content management and updating weren't scalable as they tried to manage frequent content changes.
Development required too much time and too many resources.
BSES couldn't meet their development goals fast enough, and they were expending too much valuable effort.
The website wasn't enterprise-ready.
Site performance wasn't stable, with users experiencing slow page loads and non-optimized site features.
Moving to a new platform is always challenging. However, [the] Liferay implementation has empowered us to deliver a solution with [a] good customer experience.
After an evaluation period looking at multiple solutions, BSES chose Liferay DXP. Throughout the six month go-live process, BSES leveraged Liferay Global Services for expert custom development assistance and Liferay Support for additional help with issues that cropped up.

BSES reworked their public website and launched a self-service portal and mobile application. Visitors to the public website can find vendor information, safety tips, and government policies as well as information about planned power outages and predicted resolution times. Customers logging into the self-service portal can make payments, view their bill history, and track the status of a complaint.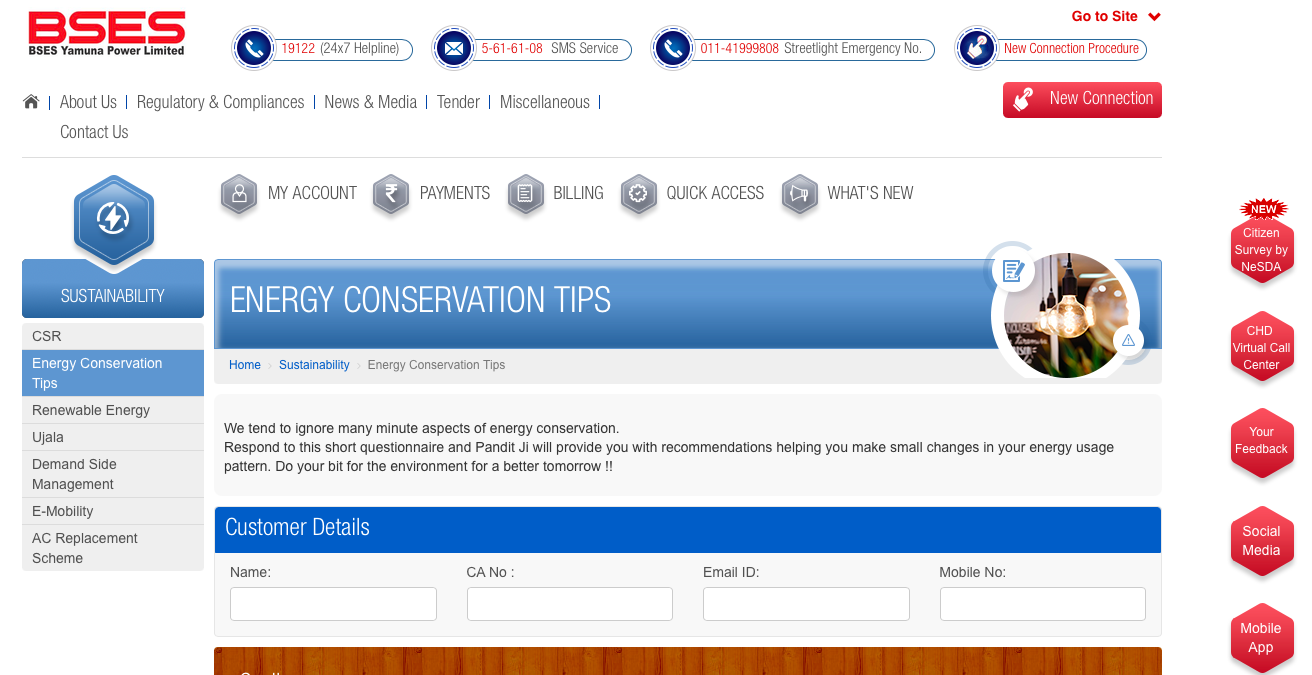 We are able to manage our digital operations more effectively, allowing transparency with consumers, which has helped us to navigate smoothly even in the pandemic situation.
After implementing Liferay as their solution, the BSES website performance has improved, with customers able to get in touch with customer service when they need to in order to resolve their problems more quickly. The GDPR-compliant website is accessible across all devices, and the mobile application itself pulls content from the website, making it easy to maintain.

BSES has also experienced the following benefits since implementation:
Increased online payments from 30% to 80%.
As a result of the streamlined and secure self-service portal, 50% more customers are using the portal for their bills.

Reduced development resources by 20%.
Because of Liferay's out-of-the-box features, the development team can target their efforts more strategically and meet business requirements faster.
Simplified content updates.
With information as time-sensitive as BSES publishes, being able to publish easily and regularly has been crucial.
BSES is planning to add another solution to their lineup soon: an intranet for their employees to get them up to speed on company policies and processes. The solution addition will help them to continue bringing to life their vision of providing excellent service to all their customers.