CASE STUDY | 12 MINUTE READ
TRIMEDX Equips Hospitals with Crucial Cyber Vulnerability and Asset Data
Clinical asset management company TRIMEDX built a client portal on Liferay that provides actionable, realtime data to healthcare providers.
100
monthly client visitors
Address unique B2B commerce needs.
Rather than building their own commerce solution, TRIMEDX created a reallocation platform with Liferay so providers can browse and update inventory.
Decrease time to market with out-of-the-box features.
TRIMEDX was able to use many of Liferay's OOTB features, saving months of costly development and customization time.
Choose a platform with growth potential.
Because of Liferay's flexible technology, TRIMEDX has added the ability to manage cyber vulnerabilities.
As an industry-leading, independent clinical asset management company, TRIMEDX helps healthcare providers transform their clinical assets into strategic tools, driving reductions in operational expenses, optimizing clinical asset capital spend, maximizing resources for patient care, and delivering improved safety and protection.
For many years, TRIMEDX used a platform-based client portal to give healthcare providers insight into their clinical assets, which could include everything from a hospital bed to an infusion pump to an MRI machine.

Over time, opportunities for improvement were identified, including:
Improved scaling capabilities to meet business needs on time as new requirements came out.
Improved stability to tackle outages and platform access.
Improved in-house involvement and ownership of intellectual property.
Liferay's flexibility allowed us to meet the business needs significantly out of the box.
TRIMEDX decided it was time for a change in platform. After an extensive assessment of their options, TRIMEDX settled on Liferay DXP as their new client portal solution.

The Liferay Global Services team assisted with the implementation process on a regular basis, providing the right resources in a challenging market and offering flexibility as TRIMEDX grew their technical team. The initial rollout happened in eight months, and a full migration off of the old platform took just three additional months.

Following an impressive and functional demo of Liferay Commerce that the Liferay team presented within a two-week timeframe, TRIMEDX integrated Liferay Commerce into the client portal as well. Regarding the quick implementation, the Director of Informatics & Data Science at TRIMEDX, Greg Duncan, noted, "We delivered more by using Liferay Commerce than if we tried to build something ourselves."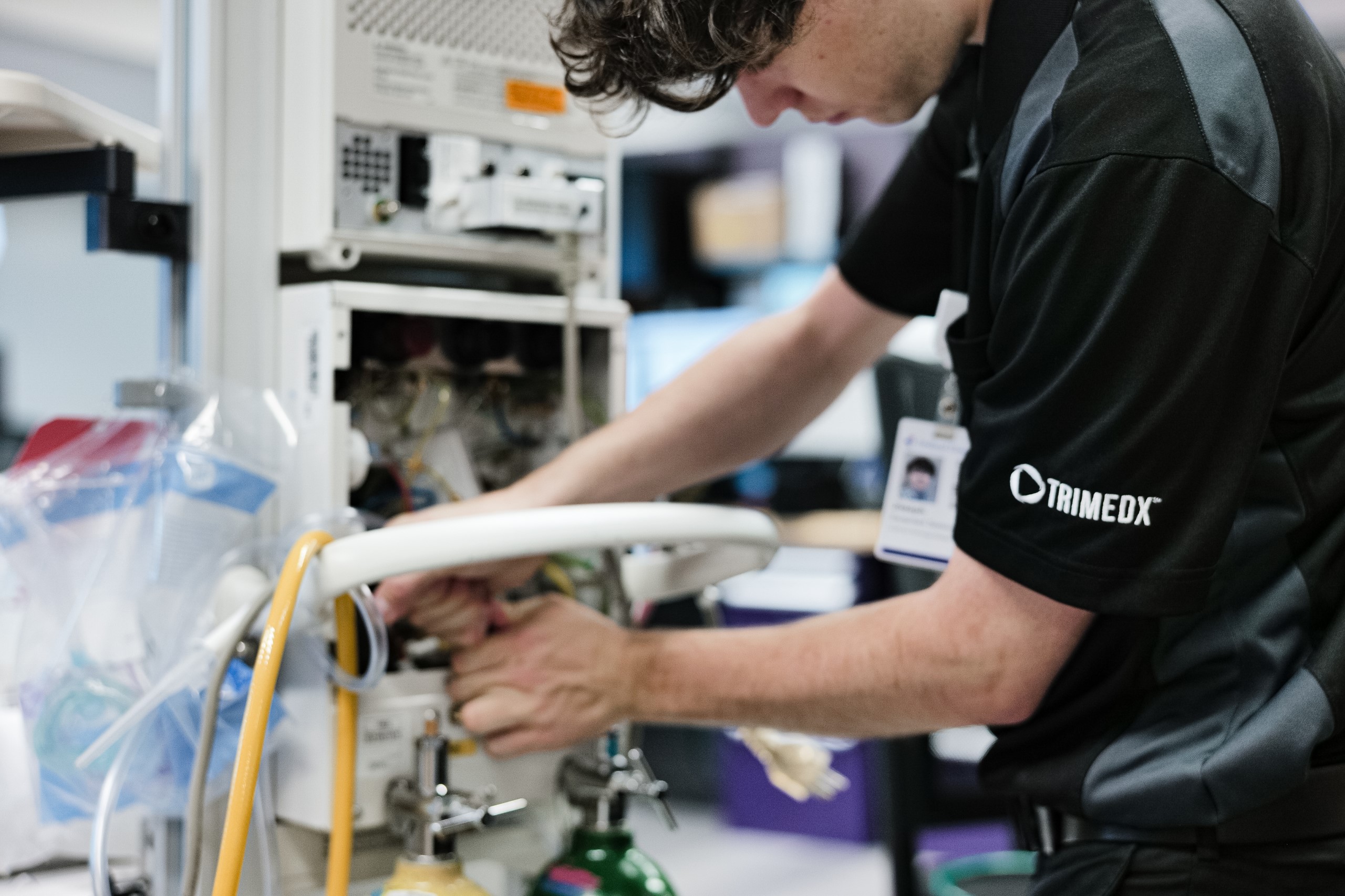 With Liferay as their solution, TRIMEDX has been able to meet their business requirements by leveraging Liferay's out-of-the-box features, decreasing time to market and the need for customizations. 20-25 healthcare providers log in on a daily basis, with 100 coming monthly for both analytical and operational needs.

Now the client portal, called Clinical Asset Informatics (CAI), enables clients to accomplish three different tasks in one place. Clients can:
Review data analytics information on their assets. This data helps CIOs and CFOs make financial decisions about the management and utilization of their equipment.

Search and post on the reallocation platform. Liferay Commerce forms the backbone of the new reallocation platform, where healthcare providers can sell or decommission assets and check recent inventory.
Manage cyber vulnerabilities. The latest function added to the portal, TRIMEDX's cyber capabilities can generate reports, alert clients to new vulnerabilities and trends, and track the progress of vulnerability resolution.
For the future, TRIMEDX plans to expand the cyber capabilities of the client portal further, providing clients with even greater insights into their assets.