CASE STUDY | 10 Minute Read
Leading Service Provider in Bank Management Boosts Customer Experience with New Self-Service Portal
parcIT GmbH designed its new customer portal with Liferay to provide the best possible support for its direct customers.
Launch solutions quickly with Liferay Experience Cloud Self-Managed.
Out-of-the-box features for customer service portals, a variety of integration options, high security standards, and development flexibility all enabled a quick launch for parcIT's customer self-service portal in just five months.
Give your customers a better experience with less manual work.
Automated interactions and a new range of digital services allowed parcIT to optimize support processes and provide a better overall standard of customer service.
Grow revenue and adoption with better customer experience.
Updates to parcIT's customer portal like a new, intuitive interface, a personalized form of address, and customized offers resulted in higher adoption rates and increased bookings.
parcIT GmbH is a subsidiary of the Atruvia AG group, one of the largest IT service providers in Germany, which is responsible for over 800 cooperative and Raiffeisen banks. A pioneer in banking management, the company has been setting standards for many years. parcIT offers a comprehensive portfolio when it comes to banking management, including methodology development, process validation, software, and consulting solutions.

parcIT's standardized software solutions have long been established on the market and are used by over 1,100 institutions and companies at home and abroad. These include numerous cooperative banks, savings banks, private banks, specialized credit institutions, insurance companies, corporate customers, computing centers, and associations. Users benefit from the tried-and-tested software family VR-Control/okular and from continuously developed concepts and tools that make everyday banking simpler, more secure, and compliant with regulations.

The company has been building up its foundations since 2015; what started with credit portfolio models and rating procedures for the cooperative market soon grew into responsibility for designing all the banking oversight processes in the German Cooperative Financial Group.

This is the backdrop that led parcIT to decide to launch the new customer portal. The plan was to substantially expand the portal's established functions already appreciated by customers, such as the download area and the option to send support requests, and to make them more intuitive. parcIT also wanted to reduce its staff's workload and personalize the portal user's experience.

The graphic below gives a better overview of the new customer portal's requirements:

The parcIT customer portal was an important and frequently used point of contact with direct customers. However, the existing download archive and limited number of decentralized tools for transmitting an individual service portfolio with encryption were no longer meeting customers' increasing and diverse needs.

So their new customer portal would need to incorporate the existing structures (users, permissions, content, etc.) while enabling new services. This posed a number of challenges:
Existing offers and features needed to be carried over to the new customer portal. This functionality would have to be fully available to users without restrictions.
The portal needed to offer customers an expanded digital product range. This expansion would need to include new risk assessments, reports, and software packages, as well as access to parcIT's okular software suite's online applications.
The new portal needed to provide a significantly improved service quality. This had to be accomplished with less person-to-customer interaction and more automated support answers within the portal itself.
Customers needed to only see services that were relevant to them. More personalization would encourage greater transparency and increased sales. For example, notifications would inform users of new information or a service relating to the products and services they had signed up for. Users would be able to find necessary information in one place, submit changes and support requests, or ask for quotes depending on their authorization level/role in the company.
IT needed to focus on more strategic tasks. The redesign of the customer portal and the expanded service offering would free up time for both support and IT teams.
The parcIT team put together a comprehensive, detailed concept plan for the customer portal that included agile implementation. From the beginning of the project, Liferay Experience Cloud provided the needed infrastructure to transform the old processes and improve the customer experience.

The team put the business logic in place and tied it with parcIT's back-end system. Additionally, the team made the customer portal modern, future-proof, and flexible by replacing the existing basic and not scalable download archive.

The new customer portal leverages a variety of key Liferay features, including web content management, digital asset management, search, audience targeting, responsive design, and single-sign-on.

Just four months after the project started, the new customer portal was ready to be populated with content. After thorough testing, the portal went live.

The accelerated launch process was made possible by Liferay resources such as Liferay University and Documentation as well as the Liferay Sales consultants for the guided Liferay Experience Cloud trial period.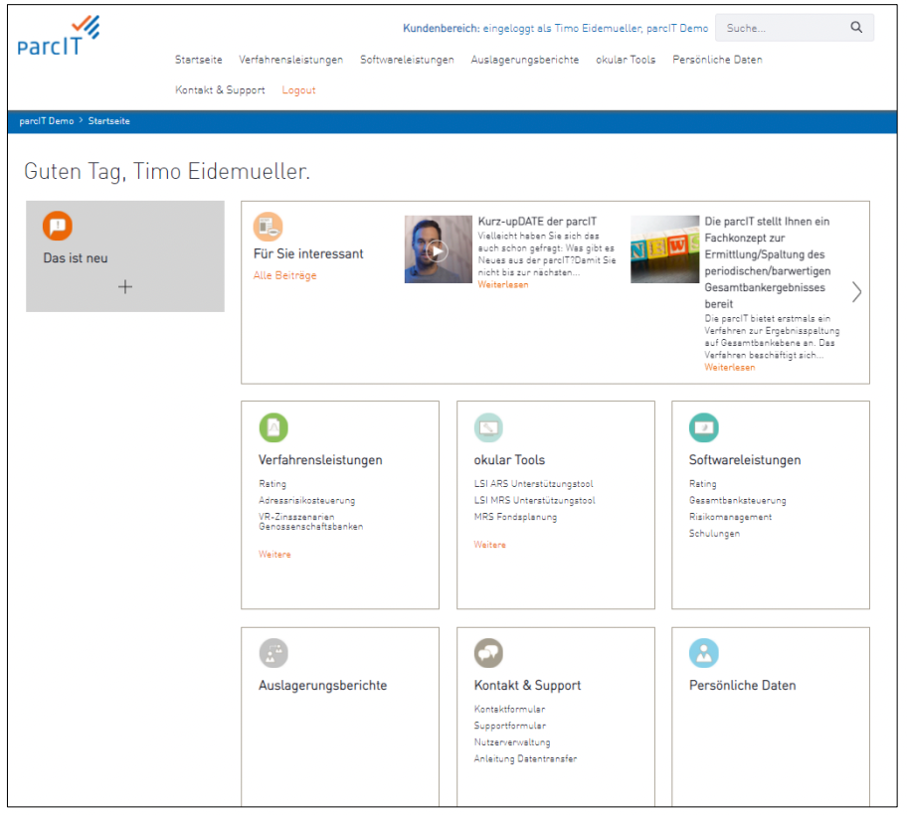 The new parcIT customer portal with a broad range of functions and a personalized user experience.
Liferay Solutions
Ready to see what Liferay can do?
parcIT was provided the cloud environment within just a few days of starting, which proved indispensable for the project's success. Not only did it meet strict security requirements, but Liferay Experience Cloud Self-Managed also allowed parcIT to integrate existing systems into the customer portal and develop new functions, so there was no need to develop individual solutions.

The benefits provided by Liferay Experience Cloud made it possible for parcIT to provide their customers with a new, modern self-service portal after just five months of development. The portal enables secure, convenient access to individual services and includes a notification service as well as a personalized form of address and communications.

Since the new portal went live, parcIT has also enjoyed other impressive benefits:
Easier access to an expanded range of services led to increased sales. Customers are already making extensive use of these new services. In fact, a large number of sign-ups to new features and services have resulted in an increase in bookings completed online.
A modern look and feel, improved user friendliness, and intuitive user prompting guarantee a high level of user acceptance.
More improvements to the customer portal are already in the pipeline, including more sophisticated and automated personalization. To do this, parcIT is evaluating Liferay Analytics Cloud to control what individual users see based on their interests and to optimize the user experience all round.
Thanks to Liferay Experience Cloud Self-Managed, parcIT was able to develop a new customer portal in a short time, increasing user satisfaction, reducing the number of processes requiring human involvement, and guaranteeing the best possible service for direct customers.