CASE STUDY | 12 MINUTE READ
Top-Ranked University Upgraded Their Self-Service Portal to Enhance the User Experience
The University of East Anglia used their upgrade to Liferay DXP as an opportunity to overhaul their self-service portal.
Improve usability and positive feedback by prioritizing and understanding user needs and behavior. Before reimagining their self-service portal, the University of East Anglia had to figure out not only what users needed to access, but how they would access it.
Simplify content accessibility to make it easy for users to find what they're looking for. In order to streamline the user experience, The University of East Anglia cut down page count and strategized where to best place content.
Build solutions that will be applicable beyond your current use case. Although the University didn't anticipate a worldwide pandemic, the new self-service portal was already so effective that it was able to provide staff and students with information to assist in the reduction of the University of East Anglia's infection rate.
The University of East Anglia, is a World Top 200 (Times Higher Education World University Rankings 2021) University with a particular emphasis on rigorous and ground-breaking research.
Built on an older version of Liferay, the University of East Anglia's self-service portal needed a transformation to ensure that the school could continue supporting current and future students and staff.

The University of East Anglia experienced these challenges with their outdated platform:
Low SEO ranking. Too many site pages cluttered the platform, and there was information on the public website that should have been in the self-service portal, so University pages didn't perform well in search results.
Performance instability. A large amount of custom code on the platform caused issues with stability and maintenance, wasting IT resources in dealing with issues.
Difficult platform navigation. The user experience wasn't optimized, and the volume of pages had students and staff wasting time wading through irrelevant information.
Liferay DXP's out-of-the-box functionality allowed the Content Editors to build rich content for their business area quickly and easily.
The University of East Anglia chose to upgrade to Liferay DXP, taking the change as an opportunity to begin with a fresh platform so they could create the perfect self-service portal for their students and staff.

"We had to go right back to basics to understand our users," notes Alistair Quinn, Head of Web Development at the University. In order to help users find what they need efficiently, the team streamlined their pages, cutting them by 92% from 20,000 total pages to 1,500 on the self-service portal.

The solution, branded MyUEA with its own unique color differentiators, uses SAML authentication for easy login, and gives the right users access to the right content through public and private pages.
Now students and staff at the University of East Anglia have one clear place to find the information they need about topics like faculty or school, division or service, updates, and more. Staff and students can now access their communities and centers easily.

The University of East Anglia has seen the following additional outcomes from their SSP:
Widespread adoption of the self-service portal. MyUEA has almost 28,000 total users, with an average of 2,000-4,000 users per day and 50,000 portal searches. Third-party users are also able to register and access the portal as necessary.

Stability and performance improvements. New responsive design implementation makes mobile access easier, and low CPI and memory usage on the portal have improved page response times.
Students and staff have easy access to important resources. With newly-trimmed and dedicated pages like the Dashboard, users can get relevant information faster. "The new portal, MyUEA, is a lot easier to navigate," says Head of Web Development Alistair Quinn.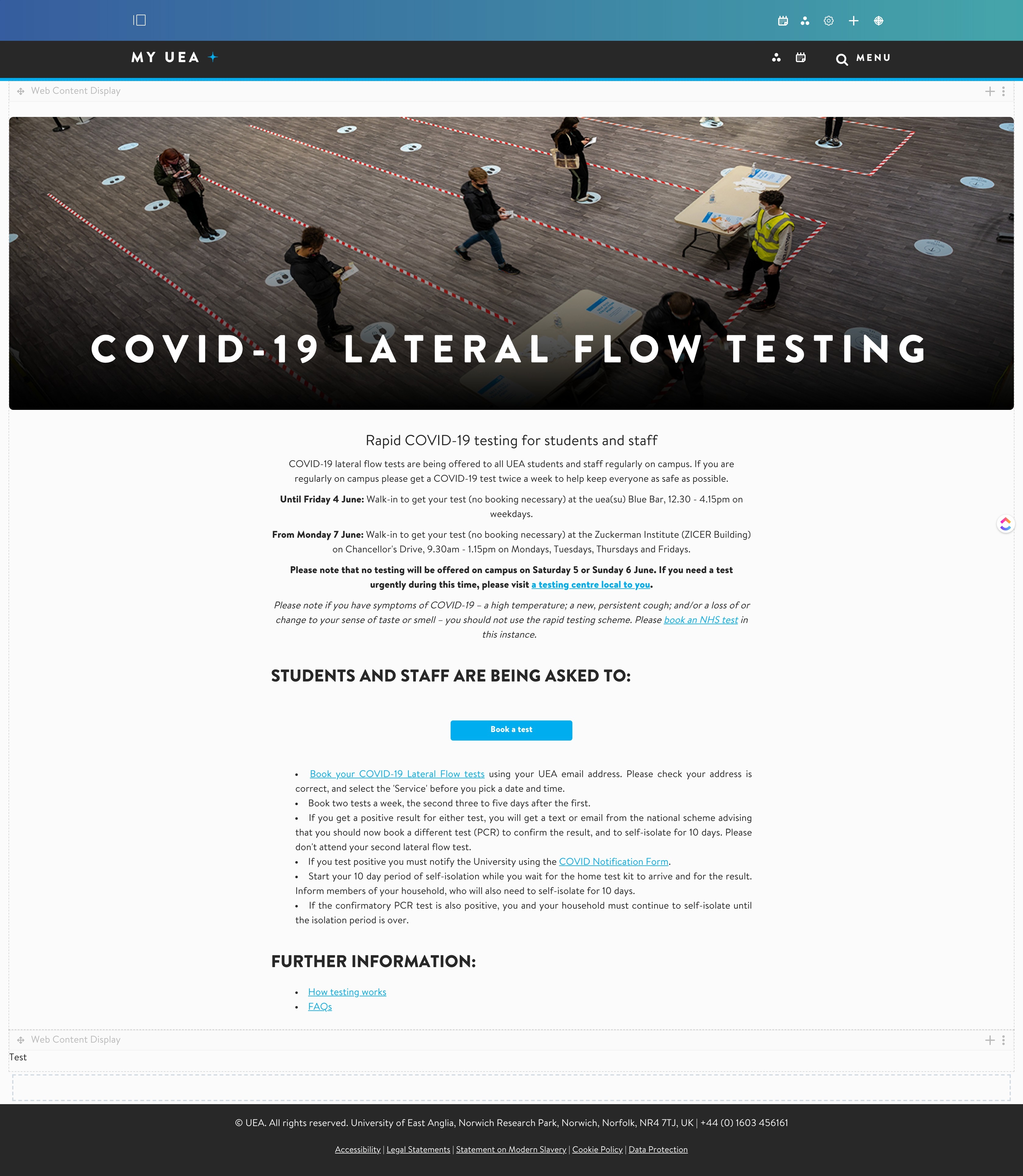 MyUEA became even more helpful during the COVID-19 pandemic, already set up to provide much-needed answers during a time of rapid digitalization. With information about testing, campus safety policies, and connections to results, the self-service portal assisted the University in informing students and staff about the actions they needed to take to reduce transmission of the virus.

For the future, the team at the University of East Anglia plans to automate event promotion, building out a new events system where events coming through the system will be propagated to the right page. With this change and more to come, MyUEA can continue to serve students and staff and facilitate excellence in study and research.