CASE STUDY | 12 MINUTE READ
Qatar Stock Exchange Users Skyrocket 273% with Integrated
Self-Service Solution
QSE created a website with Liferay DXP that allows investors to get unique and personalized insights.
53%
Increase in site Traffic
Keep your solution online, all the time.
QSE has been able to achieve 100% availability, improving by up to 10% over previous years by restructuring their architecture and eliminating bottlenecks.
Cater to all your users from one place.
With their new self-service website, QSE's website attracts potential companies and investors while supporting existing customers.
Choose an integration-friendly solution.
QSE was able to seamlessly integrate their third-party applications onto the new platform.
As part of a national strategy to establish Qatar as a world-class international market and reinforce the country's position as a regional financial center, the Qatar Stock Exchange (QSE) supports the Qatari economy with a platform where investors can trade efficiently and fairly.

As QSE's website approached end-of-life, QSE used the opportunity to look for a solution that would have all the features, functionality, and security they needed to serve their diverse audience.

QSE hoped to address these problems with a new platform:
Unresponsive experiences across devices.
Their website was only available as a desktop version and at a standard screen size, so users on mobile and other devices had trouble accessing content.
Integration difficulties with key applications.
QSE experienced back-end integration issues with third-party apps like e-Tender, their trading platform, which meant the platform was sometimes down or inaccessible.
Difficult user experience.
The site wasn't compatible with all browsers, had performance problems, and lacked effective search, so it was difficult for users to find what they needed.
Liferay allows us to achieve our vision by introducing interactive and reliable solutions that are available via our website.
Initially, QSE chose a now-legacy version of Liferay as their solution, but recently partnered with Liferay Global Services to complete a five-month upgrade to Liferay DXP for more features and functionality. Before go-live, QSE took courses on Liferay University to give the team the knowledge and confidence necessary to build a stable solution.

Users like individual investors, potential and listed companies, and brokers can now access the responsive site through mobile and other devices. Using features like schedulers to auto-publish some reports, content management is much simpler, with no costly bottlenecks to getting information out.
The reimagined website is now a central hub for the latest news, trading reports, and stock exchange activities. Investors are able to:
Receive notifications for changes in stock prices
Quickly check the market and latest news
Create favorite stock lists
Configure account settings on their own, all on the website.
Additionally, QSE has been able to go beyond the original scope of the website to host virtual events like webinars to attract new investors and companies.
QSE has experienced these benefits after their go-live:
273% increase in users.
Through social media channels and contact us forms, QSE has heard great feedback about the new, modern, and easily searchable website.

53% increase in site traffic.
Now that the website is faster, compatible with any device or browser, and accessibility certified, more people are flocking to the site.
100% availability.
After revamping architecture and addressing bottlenecks, QSE has improved availability of the website by up to 10% in the first year since launch.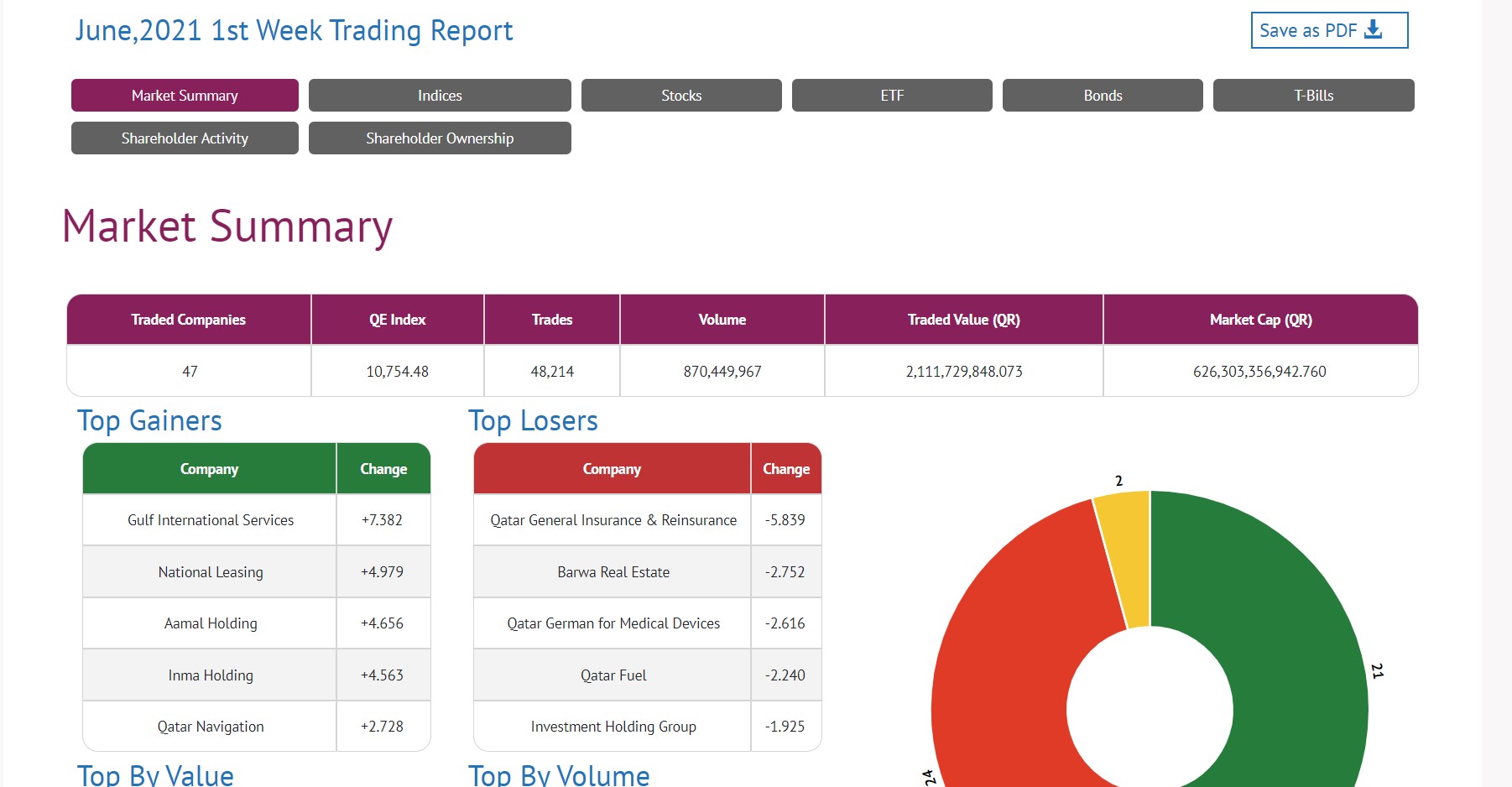 QSE's future roadmap includes introducing features and services to offer users an even more customizable experience, giving users the flexibility to tailor the content and presentation they see. As QSE continues to innovate with Liferay technology, they will play an integral part in maintaining the health of the Qatari economy.