Back to Press Releases
Umfassende Einblicke in die digitale Customer Journey der Versicherungsbranche
Liferay und Versicherungsforen Leipzig untersuchen den Stand der Digitalisierung in 30-seitigem Dossier
Eschborn (Taunus), 19. Oktober 2017 – Die digitale Transformation aller Lebensbereiche verändert auch die Erwartungen von Kunden an ihre Versicherung. Die Digitalisierung der Customer Journey – ohne den persönlichen Kontakt ersetzen zu wollen – ist eine der Hauptaufgaben, denen sich Versicherer stellen müssen, um den neuen Kundenanforderungen gerecht zu werden. Doch wie sieht der Status quo aus? Wie weit sind die Versicherer und wo besteht Aufholbedarf? Liferay, Anbieter der Liferay Digital Experience Plattform, einer Software mit der die gesamte Customer Journey unterstützt werden kann, und die Versicherungsforen Leipzig sind dieser Frage nachgegangen. Die Ergebnisse wurden nun in einem umfassenden Dossier veröffentlicht.
Für das Dossier wurden zum einen die wichtigsten Erkenntnisse aus 26 aktuellen Studien herausgearbeitet, in denen über 120 Versicherer untersucht wurden. Zum anderen umfasst das Dossier auch eine brandneue Analyse des Status quo der digitalen Customer Journey bei 30 ausgewählten Versicherern in der DACH-Region.
Dabei wurden die Webseiten und Online-Service-Angebote von Digitalversicherern und traditionellen Versicherern untersucht. Der Fokus lag auf den zur Verfügung stehenden Kontaktkanälen und dem Angebot an Online-Services in den Prozessen Antrag/Vertrieb, Vertrag und Schaden sowie den angebotenen Apps und deren Funktionen.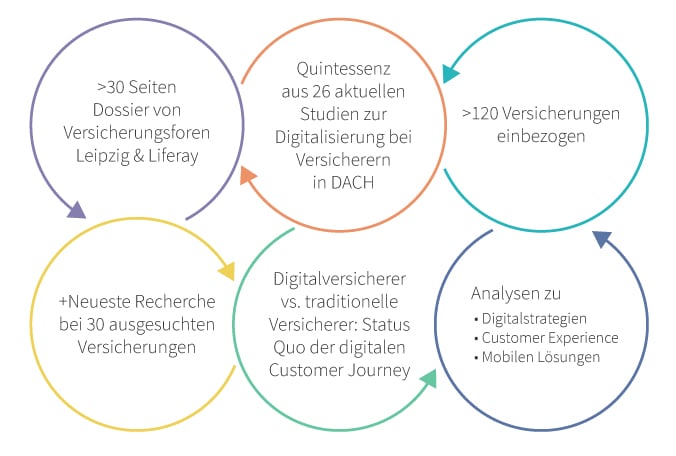 Das Fazit von Kai Wedekind, Leiter des Kompetenzteams Vertrieb und Service bei den Versicherungsforen Leipzig: "Die Versicherungsforen, als die verlängerte Werkbank für Forschung und Entwicklung in der Assekuranz, sehen die Notwendigkeit, sämtliche Kundenkontaktpunkte organisatorisch, prozessual sowie technisch stärker zu verbinden. Dafür ist ein Umdenken an allen Kundenschnittstellen erforderlich. Versicherungsunternehmen stehen dieser Herausforderung gegenüber und benötigen neue strategische Ansätze, um den wandelnden Kundenanforderungen gerecht zu werden. Es gilt, Prozesse neu zu ordnen und zeitgemäße Kommunikations- und Interaktionsformen zu finden, um die Kundenschnittstellen auch in Zukunft zu besetzen und neuen Wettbewerbssituationen – z.B. durch InsurTechs – am Markt Stand zu halten."
Das neu erschienene Dossier ist ein guter Anhaltspunkt für Versicherer, die Digitalisierung der eigenen Customer Journey genau zu betrachten und hinsichtlich der geänderten Kundenerwartungen zu optimieren. Bertram Mandel, General Manager DACH bei Liferay, über den Mehrwert des Dossiers: "Aufgrund vieler Beziehungen zu Kunden in der Versicherungsbranche haben wir bei Liferay gute Gelegenheiten die Anforderungen und Zielsetzungen von unterschiedlichen Digitalisierungs-Projekten hautnah verfolgen zu können. Wir wollten der Frage nachgehen, wie es um die Digitalisierung der Kundenbeziehung insgesamt in der Versicherungsbranche bestellt ist. Die verfügbaren, umfangreichen, Analysen und Reports waren einerseits hilfreich aber auch anspruchsvoll zu verarbeiten. Daher freuen wir uns in Zusammenarbeit mit den Versicherungsforen Leipzig ein Dossier vorstellen zu können, in dem die Quintessenz vieler Studien, angereichert mit weiteren Rechercheergebnissen, zusammengetragen wurde. Wir hoffen, den Lesern des Dossiers damit eine wertvolle Lektüre bereitstellen zu können, die Anregungen für die Gestaltung einer erfolgreichen Customer Journey liefert".
Das vollständige Dossier steht hier zum Download bereit.
Die hochauflösende Infografik kann hier heruntergeladen werden.
About Liferay
Liferay helps organizations solve digital challenges with omnichannel intranet, portal, commerce, and integration solutions. Our platform is open source, which makes it more reliable, innovative, and secure. We try to leave a positive mark on the world through business and technology. Thousands of organizations in financial services, healthcare, government, insurance, retail, manufacturing, and multiple other industries use Liferay. Liferay. One Platform. Endless Solutions. Visit us at www.liferay.com.
Contact
Laura Braun
Telefon: +49 (0) 611 74131-52
E-Mail:
[email protected]
Fink & Fuchs AG
Berliner Straße 164
65205 Wiesbaden