CASE STUDY | 12 MINUTE READ
FinTech Company Improves Productivity by 80% with Headless Solution
GAIN Credit uses Liferay as a headless content management system for their digital short-term loans platform Lending Stream.
80%
InCrease in productivity
31 Pt
Lighthouse Report Increase
Boost employee productivity with easy content creation and review processes.
Now that GAIN Credit's marketers and content creators can make content changes themselves and track them using Liferay's workflow feature, productivity is up 80%.
Find a solution that delivers tangible results.
With the ability to implement best practices through Liferay, the Lending Stream's website performance has increased by 47%, according to Lighthouse, an open-source automated webpage performance auditing tool.
Use APIs to increase your search ranking.
Liferay's headless APIs integrate smoothly with Lending Stream website's front-end rendering engine, and together with enhanced page performance, this has improved the website's SEO ranking on Google.
Spanning three continents, GAIN Credit, Inc. is a fintech company that empowers the under-served with responsible access to credit through their alternative credit brands: Drafty and Lending Stream.
GAIN Credit wanted a new, better platform for
Lending Stream
, one that could run headless for easy customizations.
GAIN Credit faced these issues with their old solution:
Long turnaround time for content changes.
Making any updates to content required coding and development experience, so marketing teams couldn't make necessary changes themselves.
No way to track the content publication process.
The current platform didn't have the functionality needed to let the team know what stage content was in at a glance.
Low ranking on Google's search result pages.
With scores on the Lighthouse report as low as 65 and poor SEO ranking, the platform wasn't reaching all their potential users.
The Liferay DXP platform satisfied many of our requirement[s] and solution needs.
After a thorough analysis of other content management solutions, GAIN Credit picked Liferay DXP as their headless solution. GAIN Credit worked with Liferay Global Services to migrate from their old platform, leveraging Liferay Support for problems they encountered.

Using both out-of-the-box functionality and customization, the Liferay solution allows marketers and content creators to log in and make changes quickly. Hosted in a different server, the website fetches the content changes through Liferay's headless APIs. Headless APIs allow developers to customize easily without disturbing Liferay's architecture and marketers and content creators to make changes to content with Liferay's user-friendly editing interface.
Disclaimer: The image above is shown for representative purposes only and does not reflect the actual page.
Because the headless APIs respond so quickly to the front-end rendering engine, users get a seamless experience on the Lending Stream platform.

Behind the scenes, GAIN Credit has seen these benefits:
80% improvement in productivity.
Including reviews, the time to publish a page to production has been reduced from a week to one day using Liferay's workflow to track and approve content, with marketers and content creators able to make their own changes in minutes.

31 point increase on the Lighthouse score report.
On webpage performance auditing tool Lighthouse, Lending Stream's scores have gone from as low as 65 to as high as 100 because of their improved performance, adherence to best practices and accessibility standards, and SEO.
Higher page ranking on Google search results.
The ability to create custom settings in Liferay and integrate well with the front-end rendering engine has enabled GAIN Credit to increase Lending Stream's SEO ranking.
Comparison of before and after scores on the Lighthouse report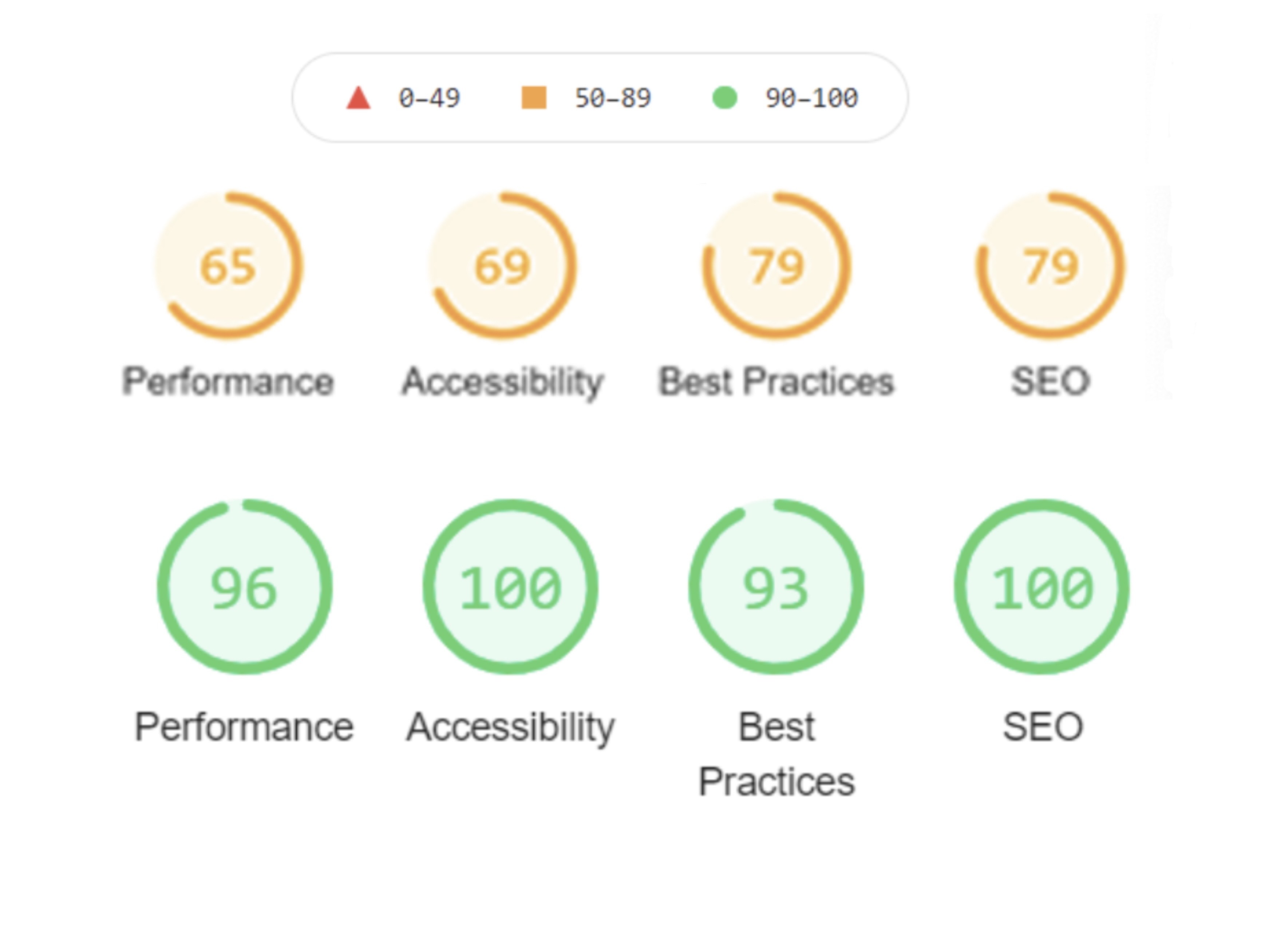 Up next, GAIN Credit plans to upgrade to the latest version of Liferay to take advantage of new features and add more of their website products to their solution—all ultimately to support their customers with alternative and frictionless banking services.